Emma Talbot's recent paintings and drawings are increasingly intuitive.
They don't follow a plan or rule, as images they are untethered from any reference to found imagery, they act as a free flowing conduit for internal thought.
The work is immediate and slips between figuration and abstraction. Sometimes the paintings intend to tell something as a narrative, sometimes they operate as a flow of visual ideas.
In Emma Talbot's work, painting provides the open space for articulating questions and abstract thought. The lightness and directness of the making contains an exploration of philosophical concerns, thoughts on being and nothingness, failure, freedom and personal recollections.
Emma Talbot is a Senior Lecturer at Central Saint Martins College of Art & Design.
Recent exhibitions include 'The Craft' Metropole Galleries, Folkestone, 'The Painting Room' Transition, London, 'The Walls in Three Places', White Nave, Dover.
Emma Talbot was guest Editor for Garageland issue 4 'Painting and Translation'.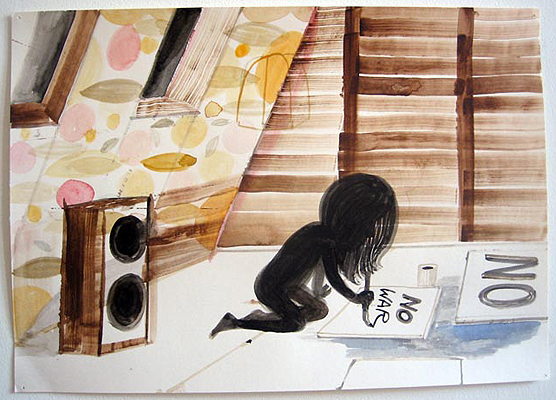 'No War' 2008, 21cm x 30cm, watercolour on paper