A Londoner born in the fifties, I've lived and worked in the capital for most of my life.

I'm a true painter at heart and pursued this passion to paint at The Hornsey College of Art. During the past few years I've developed a style and reputation that has lead to a strong following among admirers of the masculine male.

I'm inspired to show images of gay men which challenge the stereotypical ideal, and my subjects often include labourers, skinheads, club bouncers, wrestlers & football fans.
I enjoy showing a tough sexy image of men, but at the same time allowing just a glimpse of fun to show through. I challenge the so called 'desirable' images of smooth clean cut men so often portrayed as the gay ideal.

My work is mainly figurative, although I also include landscape and still life in my work.

I have exhibited in London, Paris, Cologne, Berlin, Sydney, Bergen, San Francisco, New York, and Amsterdam.
My work has been featured in The Bear Book II, Id Magazine, and many gay publications.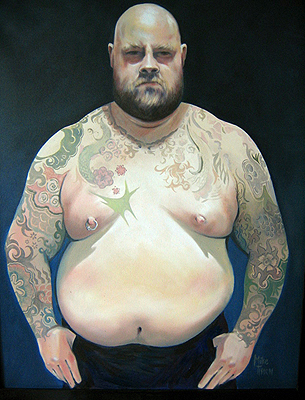 Phil - oil painting
I'd often seen Phil at a club I go to in London – a really rough looking bearded man smothered in tattoos and usually frowning and not speaking to anyone.He was totally interesting visually to me and I'd always thought he'd be the ideal subject for a painting, but because of the way he looks I'd never plucked up the courage to ask him to sit for me. Until one Saturday I saw him again at the club. I'd had enough alcohol to summon up enough Dutch courage– so I asked him if he'd let me paint him.
He said he'd think about it and I gave him my contact details never expecting to hear from him. A week later he emailed me to say he'd be pleased to do it. I was extremely surprised.The sittings went very well and the painting was finished in three weeks. He came for three sittings and I worked from photographic references when he wasn't available.The painting was exhibited at Lauderdale House and although I consider it a 'gay' subject it was surprisingly purchased by a straight man with a wife & two kids who fell in love with it. Phil has since modelled for me for many paintings and drawings.